My Story
Well, it all started back in the day…
天地人和
Heaven, Earth, and Humanity in Harmony
These acupuncture needles are replicas of the types used by ancient Chinese doctors 3000 years ago. Luckily, we don't use these anymore!
The early days…
Actually, my journey began in 2003. That is the year I decided to go back to school to become a massage therapist. In 2004, I opened my own massage practice and enjoyed working with patients on their own personal journeys to health. After spending almost 10 years as a massage therapist I realized that there was more that I could be doing to assist my patients along their paths. So, in 2013 I closed my practice and went back to school again, this time to study acupuncture and Chinese herbal medicine.
The Academic Journey…
My academic journey has been amazing and long (whew!). Along the way, I have been privileged to train under the tutelage of some truly elevated teachers. Completing extern-ships at teaching hospitals in both Shanghai (2016) and Hangzhou (2018), China taught me how ancient medicine can blend seamlessly with modern medicine. Once I completed my Masters in Acupuncture and Chinese Herbal Medicine, became NCCAOM board-certified, and was licensed as an Acupuncturist and East Asian Medicine Practitioner in Washington State in 2016, I embraced the challenge of blending the ancient with the modern. I quickly realized that the pathway to true integration lay in clinical research. As a result, I returned to Bastyr University to complete a doctorate that would allow me to be part of the cutting edge in acupuncture and herbal medicine research. In March of 2019, I completed a clinical Doctorate in Acupuncture with a focus on pain management. Currently, I hold a research appointment at the Bastyr University Research Institute, I am an adjunct faculty member for the Master's program, and Faculty of Record for the Doctoral program at Bastyr University. I am a tutor and capstone mentor for doctoral students preparing their research applications for submission to the Institutional Review Board. I also have the honor of being a supervisor for the doctoral program at Harborview Medical Center with the Pain Management Team as part of the Anesthesia Department.
To Infinity and Beyond…
In January of 2020, I stepped out into the world of business once again by opening my own private practice. What a year that was. Who would have known that the first year would be such a wild ride? Now, once again I am branching out to offer new therapies for pain management including acu-point injection therapy and aroma-puncture therapy. In February of 2022, my first case report was published in Convergent Points, an online journal. This case report is about how acupuncture can help with non-healing wounds and contains several graphic pictures at the end. Click HERE to read the full article if you are interested.
As I begin the next phase of my journey, I realize that my true success is not measured by the number of degrees I obtain or the research papers I write, but rather by the compassion, peace, and love that I extend to my community, my patients and my world. Book knowledge matters little if there is no love in the hands that are treating the patients. My heart reaches out to you as you read this, please know that my greatest concern truly is your wellness.
To the FUTURE…
My future goals include conducting more case studies, giving community talks and lectures, providing CEUs, and expanding my product line. I hope we can take this journey together. See you soon.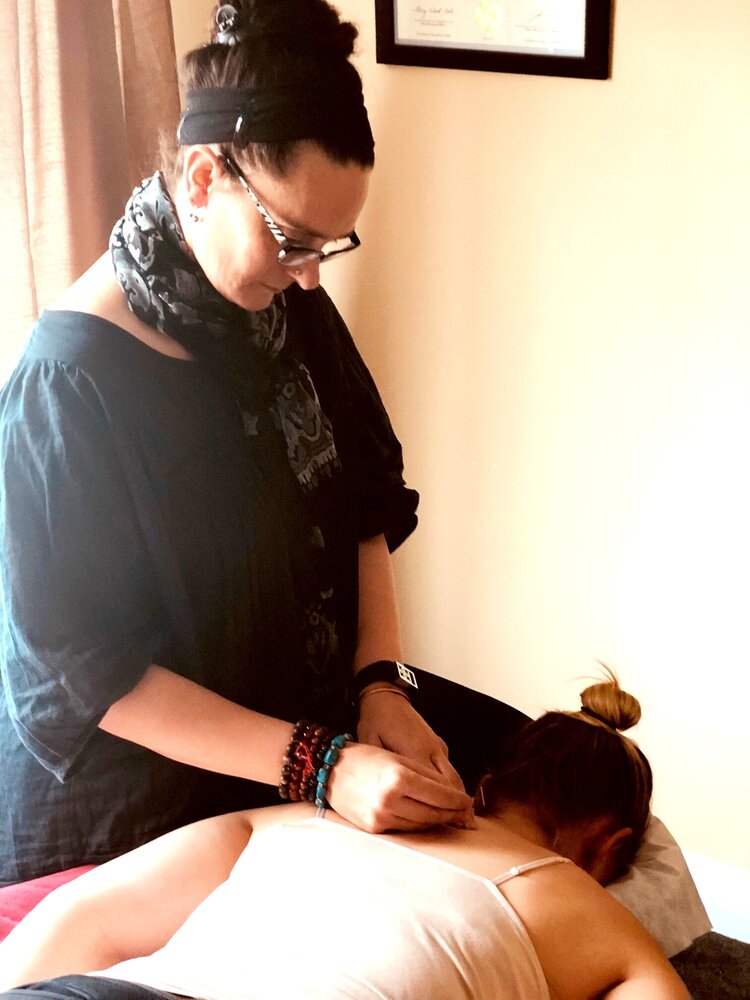 My desire is to provide a safe and compassionate place for you to heal holistically. My purpose is to assist you in the overall reduction of your pain while guiding you on your journey to body, mind, and spirit health. As a team, we can reach your goals of balanced living.
— Erin Stewart, DAOM, LAc., LMT
Most Major Medical
Insurances Are Accepted
Please contact the office for more information.